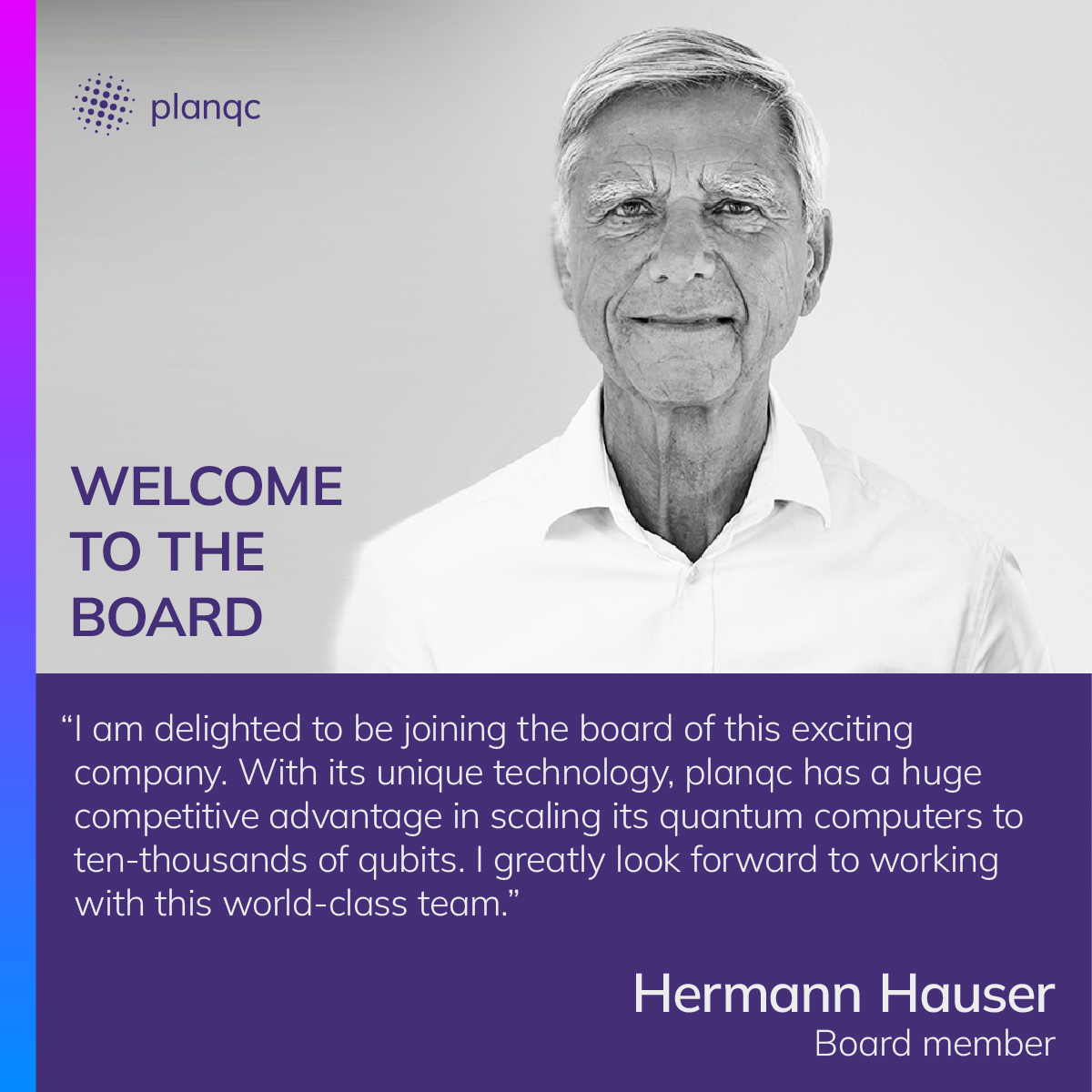 Hermann Hauser joins the advisory board
February 23, 2022
Dr. Hermann Hauser is one of the world's most successful entrepreneurs and venture capitalists, with a long history of founding companies in various (deep) technology sectors. These include Acorn Computers, ARM, world-leading in micro-processing technology found today in 95 percent of mobile phones, or Solexa (now Illumina), revolutionizing synthetic biology. He is also a key member of the Cambridge science and technology community and a trusted innovation advisor of the UK government and the European Union.
We are deeply honored that Dr. Hermann Hauser has placed his trust in us by becoming a member of our Board of Advisors. He is a highly valued partner and companion for us who – like no one else – knows how to turn world-class science into disruptive new products and company growth. We are certain that he will provide important guidance as planqc scales its quantum computing platform and creates new products and solutions,
says Alexander Glätzle, CEO and co-founder of planqc
Dr. Hauser has been closely watching the development of quantum computing technologies ever since Amadeus Capital Partners made its first investment in the field.
I am delighted to be joining the board of this exciting company. With its unique technology, planqc has a huge competitive advantage in scaling its quantum computers to ten-thousands of qubits. At the same time, planqc achieves superior gate fidelity by leveraging technology in the world's best atomic clocks. I greatly look forward to working with this world-class team,
says Hauser.
The founding team builds on decades of groundbreaking research and technology development at Munich's Max Planck Institute of Quantum Optics (MPQ). The realization of the world's first quantum simulator by the group of planqc advisor Immanuel Bloch laid the foundation for analog quantum computing more than 20 years ago. With the recently founded Munich Quantum Valley, the group is at the forefront of universal, digital quantum computing, realizing a neutral-atom-based quantum processor with up to 400 qubits encoded in strontium atoms. The consortium is led by MPQ and is funded by the German government and the state of Bavaria.
Using optical lattices, a technology pioneered in Munich, already today thousands of atoms can be trapped in a standing wave light pattern formed by a single laser beam. Quantum information is stored in electronic states of strontium atoms, the very same states that are used to build the world's best atomic clocks due to their extraordinary long coherence times. This unique combination of quantum technologies has the potential to be one of the fastest ways to scale to thousands of qubits with superior gate fidelity, a prerequisite for industry-relevant quantum advantage.
planqc commercializes the neutral-atom quantum technologies developed within the Munich Quantum Valley.
Our ambitious goal is to realize a digital, fully programmable, and error-corrected quantum computer that can work outside of artificial laboratory environments,
says Sebastian Blatt, CTO and co-founder of planqc. Such a fully digital device will disrupt many industries, such as the pharmaceutical and chemical industries. The quantum computer could help to design and upgrade catalysts, vital to all aspects of modern life: from making new medicines to developing new plastics. Another application example is the simulation of complex new materials required for developing batteries with higher performance, shorter charging times, and longer lifetimes.
Benjamin Erhart, General Partner at UVC Partners and one of planqc's early investors says:
planqc is a shining example that we not only have excellent scientists in Germany but also that joined efforts of start-ups and initiatives such as the Munich Quantum Valley are already bearing fruit. The fact that a world-leading venture capitalist such as Dr. Hermann Hauser is joining our endeavor underlines this. We hope that such a great cooperation can be a model not only at the national level but becomes a driving force in other research areas to create a world we all want to live in.
Back Home